Factory Photographs

---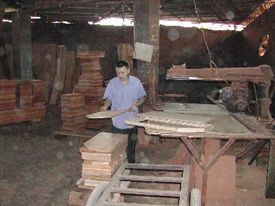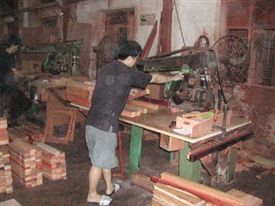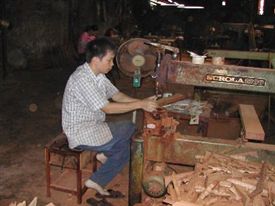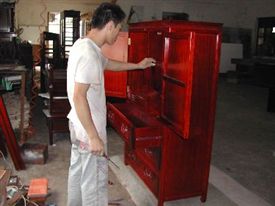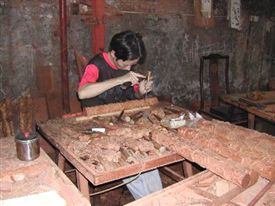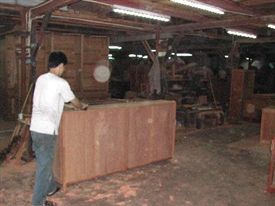 About Us
---
ROSEWOOD FURNITURE
Finesse Furniture began trading in 1993 - importing high quality "Chinese rosewood" furniture into the UK for resale at sensible prices. Our furniture is still largely Bench Made by skilled Craftsmen. Only the finest Quality Kiln dried timber from Burma , West Africa, Middle Africa and Subtropical areas of south east Asia is used to produce our range of furniture to ensure the feel and look of Quality in each piece. The timber is all sourced from ethically managed and sustainable plantations .
Using the traditional method of Chinese Double Interlocking Joints - and floating centre panels to allow for expansion these pieces are extremely robust - despite their classic lines. Each piece takes an average of 8 weeks to produce - prior to the lacquering process.

We offer a choice of 5 colour finishes ranging from the Natural colour - right through to almost black. These finishes are obtained by using Chinese Tung Oil Lacquer - which seals and protects the wood - whilst still allowing the beautiful natural grain pattern of the wood to show through.

Tung oil is resistant to Heat, Water and Alcohol. The Tung Oil is applied 7 - 10 times to each piece of furniture - and the furniture is then placed in a humidity controlled room to dry and set.


Chinese Rosewood
We supply furniture made known as Chinese Rosewood and Ashwood .
The names of the timber used in our products are
Redwood ( Hovenia Ducis Hund ) used inside drawers etc
Chinese Ash ( Fraxinus mandshurica Rupr )
Chinese Rosewood ( Chafuta Afzalea ( Afzelia xylocarpa ) )
In these days where Furniture is largely produced from Laminates - and MDF - there are still we believe a large section of the population who appreciate the beauty and feel of Solid Hardwood Furniture. Going on current UK Prices - the high cost of production - and general Market trends - these products are quite simply out of reach for most people due to the inhibitive pricing structure.

Our Mission is to bridge this gap by making this furniture available to a wider spectrum of people in the UK at affordable prices. By dealing direct and minimising our overheads - we can pass on massive savings to our customers.

We Import our customers Orders directly from the Manufacturer emplying 200 skilled workers . There are no middle men involved. Most people would rather choose their own colour finish ( plus any modifications - to suit their own use ) which we are pleased to accommodate wherever possible.